Come out and see the FASS Fall Variety Show: Feridun-Dun-DUN!
October 4 and 5 at 8pm in AL 116.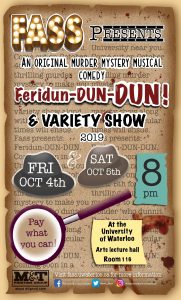 When a rash of murders sweeps campus, everyone is a suspect – even the geese! Can our intrepid detectives figure out whodunit… before it's too late?
We'll also be joined on stage by many fabulous guest acts from other performance groups on campus, including the Warriors Band, UW Cheer Team, Chavembachata, UW Improv Club, AcaBellas, Unaccompanied Minors, and UW Juggling Club!
Hope to see you there! Admission is by donation and everyone is welcome!